It's funny to me that the 2 examples you've given is the same in the box thinking that is tearing our families apart. Those terms and laws donít fit every situation. So what your telling me is that there's nothing to protect the father's who donít believe in domestic violence and do pay there child support. Are you telling me that there shouldn't be...Come on...? With that type thinking has put a number of those same children (male) in prison from single parent homes. Regarding (women) without that father figure in their lives, have either ended up in a number of abusive relationships emotionally and physically. In that endless search for the male figure that's been snatched from their lives and in his place a check, rules and just being a sperm donor. All really not having the child's best interest at heart. Look it's a hard road to travel for a man that loves his child (ren). Maybe you should stop photocopying information to me and really know both sides of the struggle. Because again it took two to make these children not the government. I'm really sick and tired of society using a few examples to make precedence for law. What about the child who came from being unwanted by there dad and he grows up and vows never to ever let their child experience the hurt they felt. Then to have people like you and a system tell them you have no rights and if you want any you have to pay. Then after he pays to take her to court and if she decides not to honor the judgement, nothing happens to her. He has to pay again to take her back into court thousands of dollars just to again fight for something that you obviously feel that we as me don't even deserve. Which are equal rights to our children. You had to points earlier that you numbered. I seemed to have overlooked the number where you mention how the other two points really helps the child in learning "Family Values". Oh, yeah you never mentioned those words...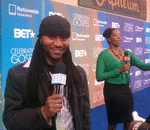 Posted By: T.D. Faison
Friday, March 6th 2009 at 11:17PM
You can also
click here to view all posts by this author...