You know there was a period before I started writing this blog, where I wrote nothing. I was really broken as a individual in so many ways and was numb to any feeling. I was broken down by the harsh custody battle over my right to be apart of my daughter's life. Which has been a 5yr battle for me. Fighting for something that has been stolen from me and my daughter. I was dealing with the end of a relationship that had consumed me and I was taking the lost very hard. I didn't really know which way was up. But I feel it's been for the best, because in that time I've learned so much about me and my worth. The past 6 months have been the most trying times in my life but what I learned is that I'm a survivor!! Sounds kind of commercial almost like a song but those words hold true to me more then anything right now. When one goes through pain inflicted by a love one that you put all your trust in, can be very damaging. For some it can actually drive them insane because the lost and the betrayal is too much for them to bare. For me it really destroyed my faith and belief in ever loving again, but thankfully God wouldn't let that be my final out look on love. I took some time to search with in my soul and found a new / old me that needed to be loved by "me".. A lot of times we forget to love "us", so caught up trying to get others to love us. And in the end when they don't quite meet up to what we need, we put ourselves into a hole of despair, anguish, disappointment, resentfulness, etc. So I packed myself up and called my agent and went on tour to add to the rebuilding process of "me"... Sometimes we need that.. Throwing ourselves into what we do that makes us feel good and self worth. I went on the road to a five city tour and got out there with the people. And I must say it was more than I expected. I want to thank all the fans that came out and supported me. I also want to thank the people that came out to my seminars and opened up with their own struggles of pain. It really meant a lot to me to see some people get their healing. One night especially sticks in my mind.... But from this and my own personal healing I realized that life is truly a journey of knowledge and when one goes through so much pain and disappointment and you can pick your head up and still appreciate life and yourself. Then that's what it's all about.....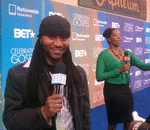 Posted By: T.D. Faison
Saturday, March 14th 2009 at 5:59AM
You can also
click here to view all posts by this author...